Hello there, this is D again.
I would like to use the next couple of entries to talk about the Rental Boxes in the shop.
In short, they're shops within our shop. And these 27cm x 24cm x 42cm boxes contain nothing but the tenants' creativity and predilection.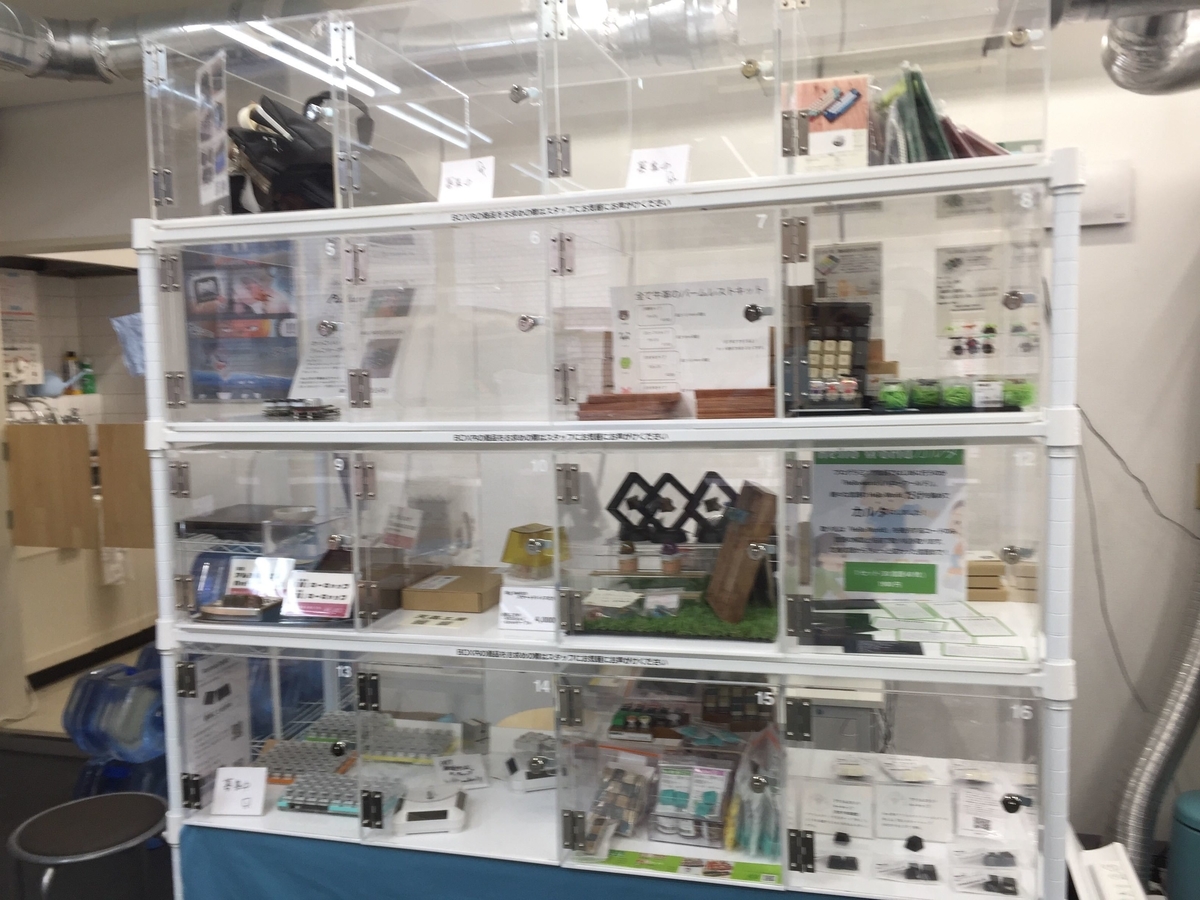 Full view of the Rental Boxes
Box 1: mShanti-san
mShanti-san works at a bag maker, designing and making samples. During her free time, she makes original leather accessories and bags, and sells them at events or sites that specialize in hand-made items.
In fact, she is the one that makes our Helix carrying bag.
Nylon Bag for the Helix Keyboard
She sells nylon and leather keyboard bags in her Rental Box. There are two main types: a thin, long design for unibody 60% keyboards, and a smaller design for split keyboards.
There are also variations, such as inserts and thin nylon shoulder bags (sacoche bags),  so that users can pick one based on how they want to carry their keyboards.
Once opened, we can see that the bags are cushioned.
Here is a 60% keyboard bag.
The smaller ones have adjustable tabs that can be used to divide the space into two halves for split keyboards, and each half is big enough to hold half of an ErgoDash (with thumb keys!). Take out the tabs and the space is big enough for a 40% keyboard, like a Plaid.
In addition to bags, there are also pouches for accessories or leather cable holders.
If you don't have a 60% or a 40% keyboard yet, the bags are also big enough to hold smaller tablets.
The cable holders and small pouches start at 300 yen (about USD 2.80, plus 10% sales tax), and the bags start around 8,000 yen (about USD 75, +10% sales tax). Please feel free to drop by and check them out.
(D)
Yushakobo, a DIY Keyboard Shop