This is Murasaki. The shop has reopened on a limited schedule, so we're back to work.
We were organizing new keycaps the other day and putting away old keycap sleeves. It's fun to look at keycap sleeves with great designs, which are often not seen during the groupbuy stage, so it's always something to look forward to. Personally I am always excited about the designs.
So here I'd like to show you my top 3 designs (including ones that we don't carry at the shop).
GMK VAPORWAVE

Personally this is my favorite! The pink and aqua base are just amazing against the gradiant background, pretty much screaming "VAPORWAVE" at you. The actual keycap colors are very close, too. This is a winner in my book.
GMK JAMON

Also called "meat" in our ciecle. The front is just the illustration of a pig with no writing. Great concept, right? 
GMK PAPERWORK

Getting pen and paper ready to do some work! I love graph paper so I can't get enough of this. And the coffee stains on the back look so real! When I first saw it in the warehouse, I thought someone really did leave that behind!
Honorable Mentions
GMK Metropolis almost made it to my top 3. The subway routes are a nice touch.

GMK Lime has a refreshing green and grey logo. The leave in the logo is cute.
GMK White-on-black. Very straight forward, "this is a keyboard" feel. The keycaps are equally simple. 
GMK Mitolet is a slight miss for me. The design is a bit hard to understanding, and the fact that the base color of the keycaps is just a little bit off from the sleeve. But I do love the keycaps.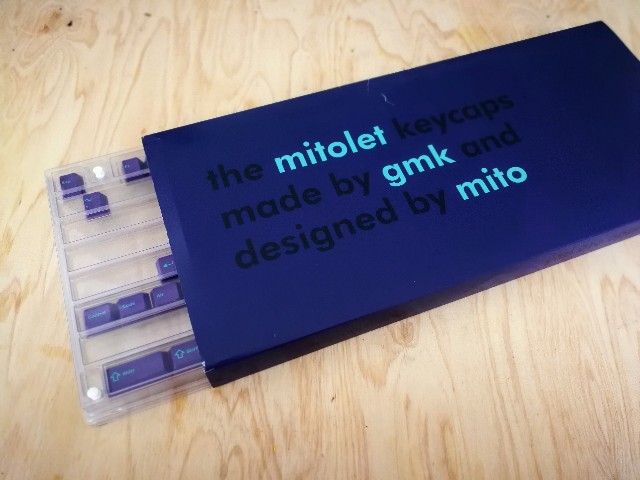 GMK Minimal, with its cute logo. It's hard to tell from the photo, but the logo is embossed.
Keycaps and sleeve as a pair
Lately there's been a lot of new keycaps, and therefore many new boxes that I've not seen before. If you buy new keycaps and post photos on social network, please post a picture of the sleeve too!
The current groupbuys have all ended, but we might have bought some extras, which you can buy through our online shop or the store. Some might be store-only, though. When you come by, don't miss the cool sleeves in the window!
Yushakobo, a DIY keyboard shop