Hello there, this is D.
This is the 8th entry about the Rental Boxes in the shop.
In short, they're shops within our shop. And these 27cm x 24cm x 42cm boxes contain nothing but the tenants' creativity and predilection.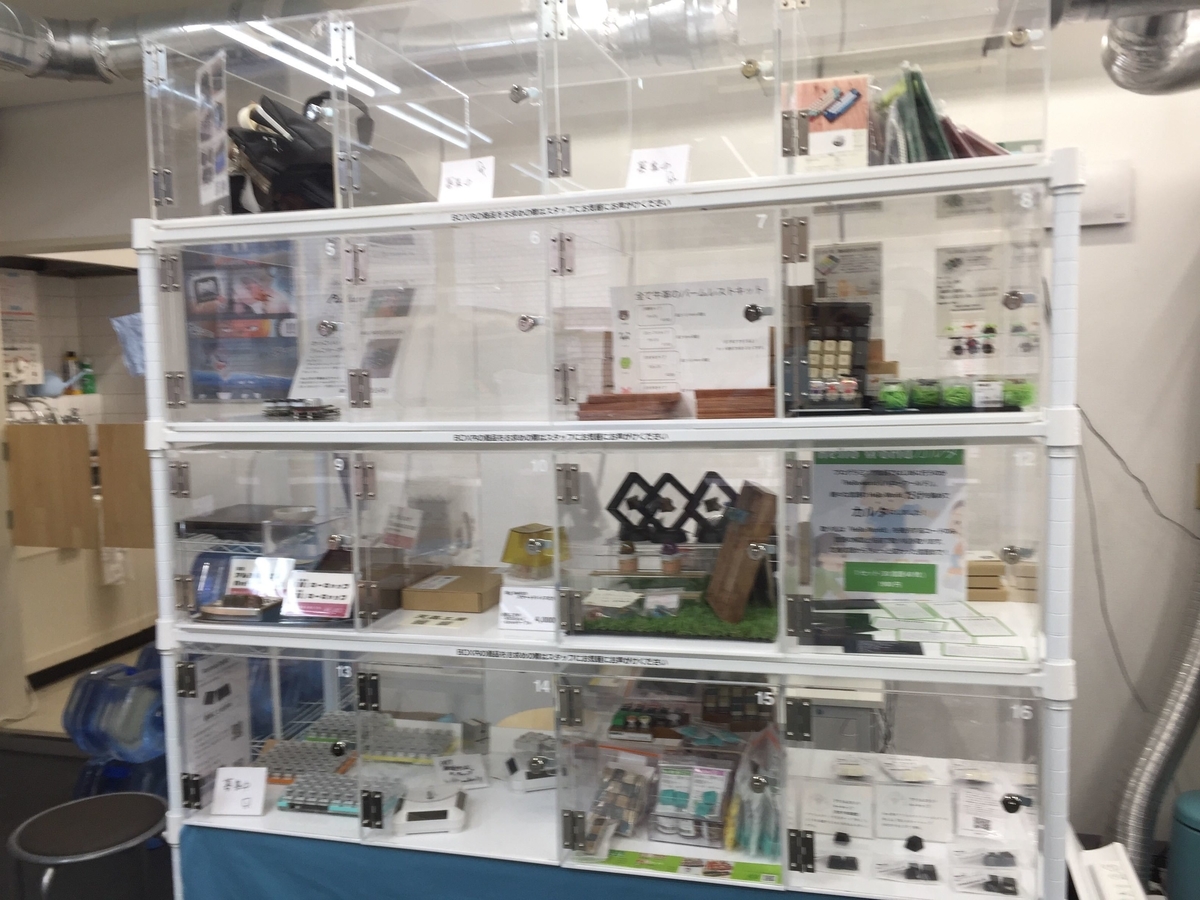 Box 15: Oooka-san
His box contains many different types of keycaps.
There really are quite a few, and I'll explain them using the photo below.
The first 3 rows on the left hand side are...can you believe it? Mino ware!
(Japanese pottery produced in the style of the old Mino Province, now Gifu Province)
They're cold to the touch, which makes it great on a hot summer day.
The first 2 rows on the right hand side are glass. Cooler to the touch than the Mino ware ones, and they're smoother.
The 3 in the bottom left corner on the right hand side are the "Naginata" keycaps, which are designed to be easy to type on. They're called "Naginata" (Japanese polearm) by the maker, because he designed a Japanese keyboard layout called "Katana" (Japanese sword), where the consonants K, T, and N are placed next to each other.
The unique thumb keys that can be pressed from an angle are available individually as well, with the Naginata kanji logo.
The ones in the bottom right corner on the right hand side are keycaps with buttons on them. Cute, right?
Finally, the ones in the bottom rows on the left hand side are wooden keycaps.
Hand-carved wooden keycaps.
All of them will make enthusiasts go, "I didn't think that was possible!" And all of them show the maker's passion and dedication to the materials. Please come to the shop and take a look at these in person if you can.
The prices are:
36-key Mino ware, glass, or Naginata: 4,400 yen to 5,500 yen
2-key Naginata thumb, glass or buttons: 660 yen to 880 yen
Wooden keycaps: 800 yen and 1,300 yen
Yushakobo, a DIY keyboard shop
Want to sell something through our rental boxes? Let us know!